September 26, 2023
INSP MARKETERS UTILIZE ARTIFICIAL INTELLIGENCE TO CREATE THE INSP GENERAL STORE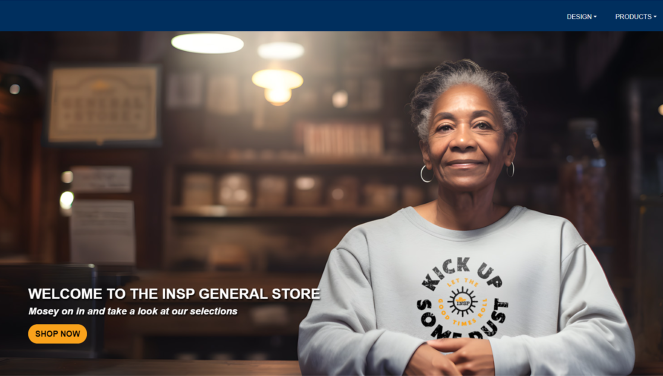 INSP MARKETERS UTILIZE ARTIFICIAL INTELLIGENCE TO CREATE THE INSP GENERAL STORE
(Indian Land, SC – Wednesday, September 27, 2023) – INSP Television Network, the recognized leader in classic western programming, today announced the launch of the INSP General Store.
"Creating a virtual space that resonates with our brand and our viewers was paramount," said Tina Lloyd, VP of Digital Marketing & Social Media. "Artificial intelligence allowed us to take the traditional elements of a general store and scale them into a unique online experience for our customers at a fraction of the traditional start-up cost, which in turn should significantly improve overall ROI for the initiative.  It's a beautiful marriage of America's historic past with today's cutting-edge technology."
From exclusive show memorabilia to branded merchandise and clothing created by the INSP design team, the INSP General Store boasts an impressive collection that can be browsed from the comfort of your home. Customers can look forward to special promotions, seasonal items, and limited time offers designed to enrich their INSP viewing experience.
Lloyd continued, "By meticulously blending modern-day convenience with elements of nostalgia, the INSP General Store comes alongside INSP Television Network's commitment to deliver programming that is reminiscent of simpler times. The virtual shop perfectly complements INSP's renowned catalog of classic western programming, offering fans a whole new way to connect with their favorite shows and characters."
Utilizing artificial intelligence to craft its storefront and graphics, the INSP General Store aims to take visitors on a journey back to the late 1800s. The virtual storefront reimagines the charm of the classic general store, capturing the essence of Americana while offering a wide array of INSP-branded merchandise and collectibles.  Curious to see the results? To explore the INSP General Store and its unique offerings, please visit www.ShopINSP.com.