November 14, 2023
INSP Showcases One of America's Earliest Storytellers in New Series THE TALL TALES OF JIM BRIDGER

INSP Showcases One of America's Earliest Storytellers in New Series THE TALL TALES OF JIM BRIDGER
The Network's Latest Historical Drama Will Make its Exclusive Premiere on Thursday, January 11th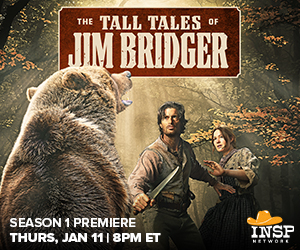 (Indian Land, SC – November 14, 2023) – Top 10 cable network INSP, the recognized leader in Western and Western-adjacent programming, today announced the premiere date for its newest historical drama series, The Tall Tales of Jim Bridger. The series will bow on INSP on Thursday, January 11, 2024 at 8PM ET. The announcement comes from Doug Butts, EVP of Programming for INSP.
"Jim Bridger's extraordinary stories of adventure, whether real or embellished by Jim himself, offer viewers a unique opportunity to journey into untamed landscapes and witness unfathomable encounters on the American frontier," said Butts. "This is a gateway into the heart of American folklore; and Bridger reminds us that infamous legends often intertwine hard truths with a limitless imagination."
As a fur trapper and legendary mountain man, frontiersman Jim Bridger explored the entire distant West and survived countless hair-raising adventures. In The Tall Tales of Jim Bridger, he's a respected trail guide and army scout who knows every river, mountain, and trail on the frontier. As new generations of settlers, soldiers, and speculators crowded the Bozeman Trail, Bridger's hard-won wisdom was more valuable than ever, even if his famous tall tales often sounded more like exaggerated fiction than fact. But the West was still a perilous place, and with danger lurking around every bend, the greenhorns heading west quickly realized they needed Bridger's guidance for much more than the trail.
Please reach out for more information, or to request a screener.